PRO-LIFE CANDIDATES FARE WELL IN WV PRIMARY
(May 11 Press Release)
Incumbent Representative Carol Miller handily won renomination in the newly redistricted Congressional District 1 with 66% of the vote on Tuesday, May 10, in the West Virginia Primary. Two Congressional incumbents in David McKinley and Alex Mooney squared off against each other in the new Congressional District 2. Both were endorsed, but Mooney came out on top by a margin of 54-36%. "Congressman McKinley was instrumental in the passing of numerous pieces of pro-life legislation over his years in office, both on the state and national fronts," said WVFL Political Liaison Karen Cross. "Many lives have been saved because of his steadfast commitment to the unborn. Well done, good and faithful servant."
Of the 18 Senate races in which the West Virginians for Life Political Action Committee (WVL-PAC) made endorsements, only two races were lost, but one of the two winners, Jason Barrett in S16, is pro-life.
In 97 House of Delegates races where the WVL-PAC made endorsements, there were 13 losses, and yet, ten of those 13 winning nominees are pro-life. WVFL thanks the following incumbents for their past pro-life support who will not be returning to the House in 2023: Roger Conley (H11), Shannon Kimes (H 14), Johnnie Wamsley (H18), Chad Lovejoy (H27), Josh Booth (H28), Dianna Graves (H59), Danny Hamrick (H69), Guy Ward (H74), and Ruth Rowan (H89).
All in all, the rate of success of candidates endorsed by West Virginians for Life was 87%.
The following quote can be attributed to Wanda Franz, Ph.D., President of West Virginians for Life PAC: "WVL-PAC is pleased with the election results overall. The PAC works to support pro-life candidates from both parties. The overwhelming pro-life successes in this election are, in part, due to voters' desire to elect legislators at both the federal and state levels, who reflect their values regarding the dignity of each human life. West Virginians for Life looks forward to seeing increased support for pro-life candidates in the general election in November."
Unborn Child with Down Syndrome Protection Act Victory
(SB 468/HB 4337)
By Wanda Franz and Karen Cross
The Unborn Child with Down Syndrome Protection and Education Act was signed into law by Governor Jim Justice on March 21, 2022, on "World Down Syndrome Day." It was a wonderful celebration of life with many legislators, who supported the bill, in attendance including bill sponsors Senator Patricia Rucker and Delegate Kayla Kessinger. In addition, Kurt and his daughter Chloe Kondrich, ambassadors for "Embrace Don't Erase" Down syndrome, were pleased to be among the witnesses. In the words of "Dadvocate" Kurt, "It was the BEST day ever!"
The bill  passed in the Senate on a bipartisan vote of 28 to 5 with 1 absence. It passed in the House of Delegates with 81 Yeas, 17 Nays and 2 Absent. The concurring vote in the Senate passed with five minutes left in the regular 60-day session. It will take effect June 10, 2022.
"Killing an unborn child because of a disability is an extreme form of discrimination against people with disabilities," said West Virginians for Life Political Liaison Karen Cross. "I'm so proud of the West Virginia Legislators for protecting these vulnerable babies with disabilities from abortion."
The Unborn Child with Down Syndrome Protection and Education Act is very important here in West Virginia. Families whose children are diagnosed with Down syndrome or other disabilities face enormous pressure to abort. Most of these families succumb to this pressure. It is estimated that as many as 90% of these babies are aborted.
We need to protect these families by outlawing abortions when the only reason is that the child has a disability. It should never have become medical practice in West Virginia to perform abortions on healthy women without a medical reason. Yet that is the case today when abortions are done for eugenic reasons. This is especially problematic because these abortions are generally done later in pregnancy, when abortion causes higher risk for women physically and psychologically. We are allowing eugenic policies to be carried out that endanger women's bodily health.
What these mothers really need is information, education, and support to help them deal with their special children. Families raising children with Down syndrome are overwhelmingly positive about their experience. The new law provides for this education to be provided by the Department of Health and Human Services.
After the victory, National Right to Life (NRLC) State Legislative Director Ingrid Duran stated, "The National Right to Life Committee applauds the great state of West Virginia for putting a stop to eugenic abortions and providing helpful resources for families that are given a disability diagnosis in their unborn child."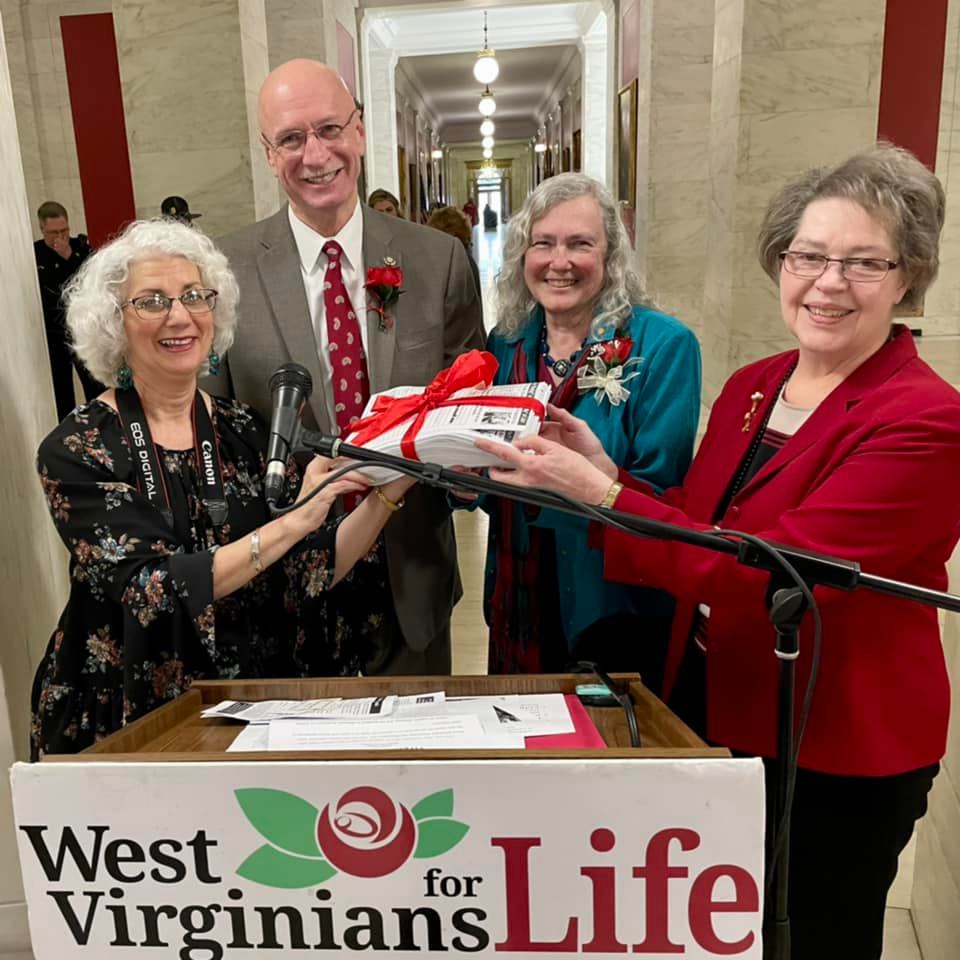 Ruth Rowan (standing in for House Speaker Roger Hanshaw) received the Unborn Child with Down Syndrome Protection and Education Act petitions from WVFL's Office Manager Mary Anne Buchanan and President Wanda Franz, Ph.D., at February 7 Pro-Life Rally Day.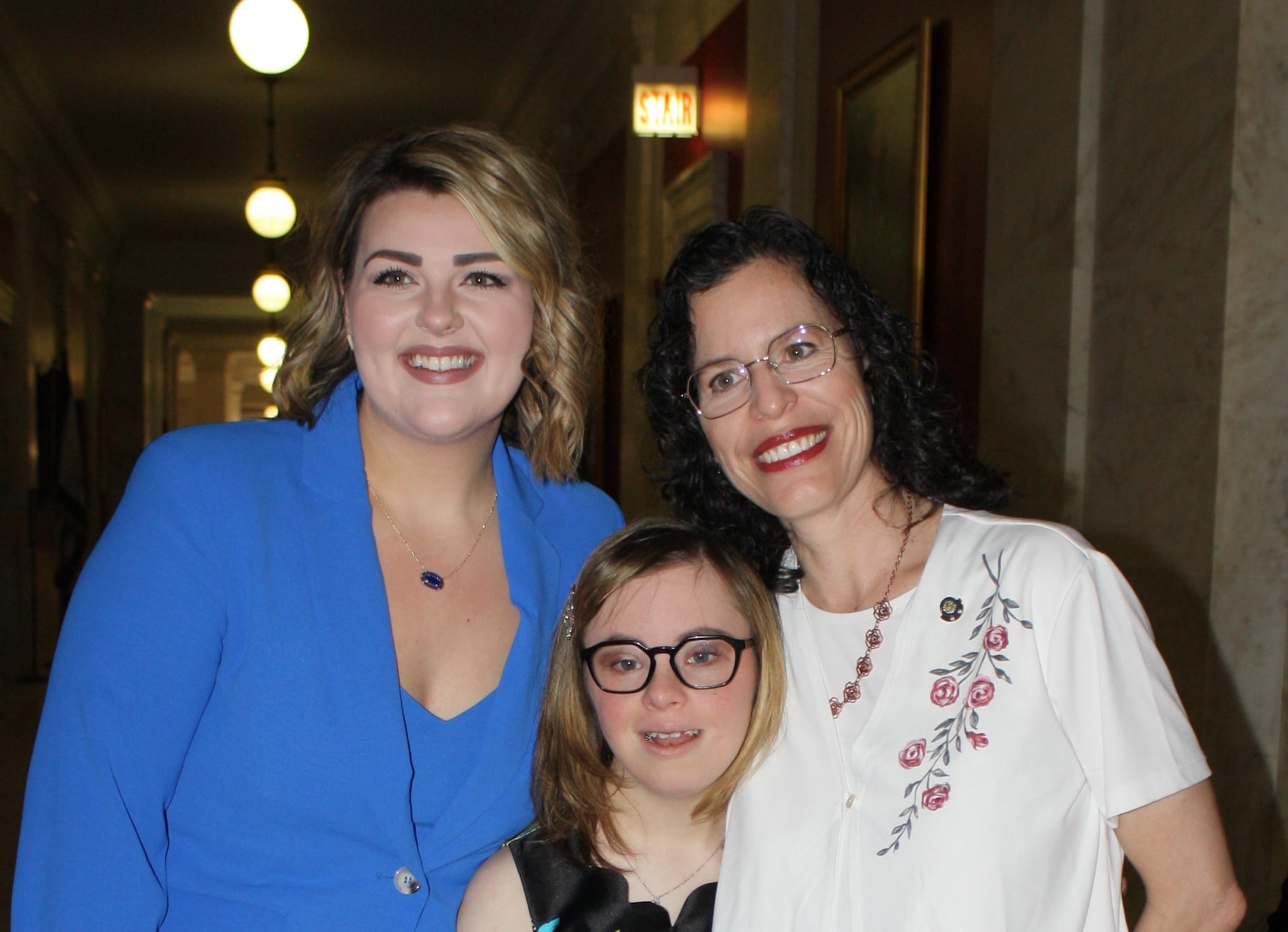 Bill Lead Sponsors Delegate Kayla Kessinger and Senator Patricia Rucker posed with Chloe Kondrich, who lobbied for the bill on behalf of "Embrace Don't Erase" Down syndrome.
Dalton Ratcliff of Fairdale, son of Doug Ratcliff and Angie Honaker, was quite a hit with the Governor. His grandmother, Raleigh County Chapter Leader Hilda Shorter of Sophia, was pleased to be in attendance to witness this day.